Paying your rent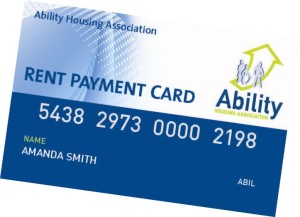 Paying your rent
Your rent covers the costs involved in providing, managing and maintaining your home.
You may also pay a service charge, which covers services to your block or estate. Service charges typically cover items like cleaning and repairs to shared areas, communal gardening and window cleaning.
We expect you to pay your rent and service charges in full, at least one week in advance.
Ways to pay
You can pay:
using the Allpay rent card we gave you, soon after you moved in
by direct debit, or
by cheque sent to our main office.
Your Allpay card has a number on it, so that we know it belongs to you. You can
use it to:
pay by cash, cheque or debit card at any Post Office
pay with cash at any shop or garage displaying the PayPoint sign
pay online on the Allpay website, or [external link]
pay by phone using your debit card – phone 0844 557 8321.
Direct debit
Paying by direct debit is the easiest way to pay your rent. Your housing officer can help you with the forms. Once your direct debit is set up, your rent payment is made automatically from your bank account – either once a week or once a month.