Q-Team visits customers in Hayes
Published: 5 Nov 2015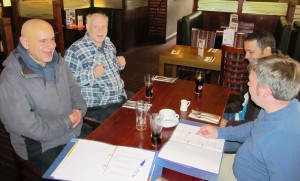 The Q-Team visited our new service at Sessile Court in Hayes in October to check how we're getting on and to hear from customers about their Ability services.
The Q-Team is our customer-led quality auditing team, whose members volunteer their time to visit our services. As one customer to another, they find out about people's lives, homes and support, and make suggestions to improve our services.
Q-Team members Nigel and James were given a guided tour of the service and talked to Ability staff. They then met customers over lunch – a relaxed and informal way to find out their views.
The Q Team got great feedback about the service, with one customer telling them: "I love my flat, I was in shared living before and it's just so nice to have my own space and place."
When asked about their support, another customer said: "Staff are really flexible about my support times, they say to let them know what's easiest for me."
A third said: "I talk to staff when I'm worried. Staff – they always help the best they can. They always say we can talk to them about anything and I think that's true. I feel listened to – especially by my key worker."
After a visit, the Q-Team send a report with their recommendations to our local management team. Over the following year, the team share the progress of their action plan with customers, relatives, senior staff, the Customer Panel and the Customer Services Committee.