Supported living scheme for Bexhill-on-Sea
Published: 22 Sep 2015
East Sussex has gained a new supported living scheme, with the opening of a new Ability development in Bexhill-on-Sea, in September 2015.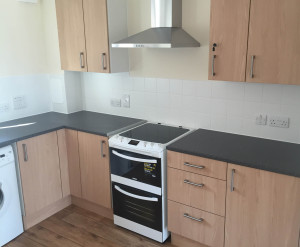 Elva Court, which has been developed in partnership with East Sussex County Council and Rother District Council, provides 14 one bedroom flats set over four floors. The scheme includes a staff flat and office, and has a cycle store. There is a communal courtyard on the first floor and a retail unit at the front of the building.
Elva Court residents benefit from round-the clock support, allowing them to live independently before they make the move to general needs housing. The scheme is well located at Ninfield Road in Sidley, with shops and other amenities close by.
Construction on this challenging site, which lies between existing properties, was carried out by Providence Building Services.
Ability's Operations Director, Tim Hall, said: "This development will provide important support to residents, so that they can then make the move on to independent accommodation. We hope that this will be another great example of how high quality supported living can transform people's lives."