Ability welcomes Jeff Skipp as our new Chief Executive
Published: 27 Apr 2016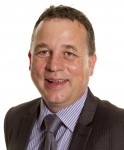 We are delighted to confirm the appointment of Jeff Skipp as the new Chief Executive of Ability.
Jeff, who will take up his post full-time on Friday 1 July, has outstanding credentials for the role, having been Chief Executive of the national disability charity, Deafblind UK, for the past 10 years. Prior to that, he was Director of Care at Papworth Trust, a housing association like Ability, which specialises in housing and care & support for people with disabilities.
Jeff replaces David Williams, who leaves at the end of April to pursue a new venture after 24 years with Ability; the last 14 as CEO.
David says: "It has been a great privilege to lead this organisation through so much growth and achievement. I am deeply proud of my teams for their positive commitment to delivering such high quality homes and support services. Together, we have enabled thousands of Ability customers to live more independently. I leave happy in the knowledge that the organisation is in good hands and remains committed to its core purpose and values."