Customer Panel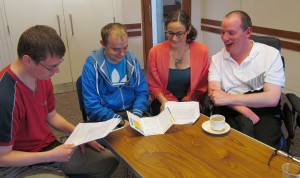 Our Customer Panel is a mix of tenants and support service customers – from different areas and with different abilities. They meet formally, three times a year.
Amongst other things, the Panel looks at our policies and ways of working, creates training plans, checks our repairs performance and helps us choose new staff.
Panel members take part in training – for example, around equality and diversity, complaints, or recruitment and selection. They also write their own training and development plans each year.
The Panel now has sub-panels, as well as the Q-Team, so they can develop their skills further and work closely with staff in areas like complaints, customer service and peer auditing.
Why should you join?
The Customer Panel helps us to improve our services and makes sure customers remain at the centre of everything we do.
If you are hoping to get paid or unpaid work in future, this is an excellent opportunity. You will get training and the chance to build your own portfolio of experience. You will get involved in many different areas of our work, alongside staff.
The Panel is also a great way to socialise.
To find out more, contact Sharon Taylor, our Customer Engagement Co-ordinator, at engagement@ability-housing.co.uk