Loddon Court
Contact details
289 Wokingham Road, Earley, Reading, Berkshire. RG6 7ER
Tel: 0118 9664 257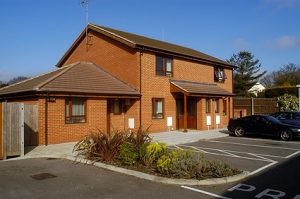 Overview
Loddon Court was open in 2004 and has accommodation for people with Learning Disabilities to live as independently as possible. It comprises of 9 flats over two floors.
The accommodation is located near both Wokingham and Reading town centre and is within walking distance to local shops and amenities. It has good public transport links.
Staff are on site 24 hours a day, 7 days a week to provide individually tailored support to the residents.
This service is a long term home for adults who have a learning disability and require support with their daily living skills and accessing the community.
What we offer
To develop and maintain independent living skills.
To empower individuals with a learning disability to thrive in their community.
To deliver person centred support promoting individuals to make informed choices and achieve their aspirations.
Ensure safety and wellbeing by working closely with partnership agencies and family members.
Areas supported
The areas of support provided but not limited to:
Administration of medication
Daily living skills (cooking / cleaning)
Budgeting, paying bills and preventing debt
Applying for welfare benefits such as Housing Benefit, Council tax benefit, Personal Independence Payment
Education, training, voluntary work and employment
Health care appointments
Leisure and culture
Accessing the community
Relationships with family, friends and professionals
Repairs
Health and safety
Customer groups
Vulnerable adults with an assessed learning disability.
Referrals
All referrals come from Wokingham County Council via the  housing department, or from Care Managers within the Learning Disability Teams.
The housing officer, or the Care Manager, will send referrals electronically (by email) to the housing officer and Sara Ofori. Once received the Manager will arrange a full needs assessment.
Facilities
Each flat has one bedroom, a bathroom and it's own lounge/built in kitchen which includes a cooker, hob and fridge/freezer. There is a communal garden and parking at the side of the building