Fiddlers Green
Contact details
Fiddlers Green, Shalston Villas, Ewell Road, Surbiton, Surrey KT6 6ET
Tel: 0208 339 9625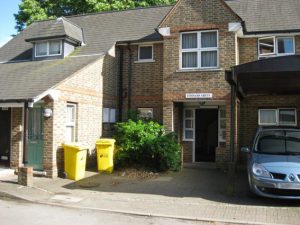 Overview
Our vision is for people who want to live more independently to regard Ability as their first-choice provider of housing or support services.
Fiddlers Green is a purposefully built registered care home which provides care and support for 7 adults with physical disabilities or sensory impairments, in Surbiton, Surrey.
Each customer has their own room, which they can personalise.
Fiddlers Green is managed by a Registered Manager who reports to Ability's Director of Care and Support (for registered services) A senior support worker is employed to manage the service on a day to day basis. The support service provided by Ability is carried out 24 hours a day, 7 days a week, including bank holidays and to include the provision of one sleep in support staff, wake night support staff and team of support workers.
The home is registered with the Care Quality Commission (CQC) under the National Care Standards Act 2000.

What we offer
The aims of the service are to:
Provide person centred care and support for adults with physical disabilities or sensory impairments. With a view to maximising their independence and enabling those individuals to have a presence in the community.
Develop, improve and maintain daily living skills, supporting customers to live as independently as possible
Develop and deliver a person-centred approach with the customers, supporting them to maintain their tenancies.
Ensure the safety and wellbeing of customers by working in partnership with family and agencies.
Areas supported
Personal care / hygiene
Managing money and welfare benefits
Maintaining tenancy
Administration of medication
Shopping and accessing the community
Leisure and culture activities
Access to work, education or training.
Support with daily living skills
Attending medical appointments
Social events onsite
Budgeting, paying bills and preventing debt
Customer groups
Adults 18+, our customers are predominantly adults with physical disabilities and some learning disabilities.
This service is for adults with multiple needs who require support with their daily living skills and accessing the community.
It is registered with the Care Quality Commission (CQC) to provide personal care under the Surrey Your Ability Service.
Referrals
All referrals must be presented and agreed at the Commissioning Learning Disability Funding panel, by social workers before, being referred to Ability.
Once agreed Ability's referral form should be completed and returned along with required documentation, listed on the referral form.
The Registered Manager/Director of Support services will receive applications/referrals and work together to consider if the applicant meets the eligibility criteria.
Once a referral has been received, this will be logged and the registered manager will contact the social worker to discuss further and arrange an assessment date.
The referring authority will discuss with the local management team the nominated individual they wish to refer.
The service will receive all relevant documentation to include – all current Risk Assessments – Current Support Plan – Behavioural Plan (if relevant) before the service is able to arrange and carry out an assessment.
The service and the local authority representative will work in partnership to ensure the holistic needs of the referring customer are fully considered making sure the service can fully meet the needs of the individual.
Local Authority representative will support the referred individual and or family members to visit the service before any decision is made.
Facilities
There are 7 Bedrooms and bathroom facilities are shared. Communal rooms include a lounge/dining area and kitchen.
Six customers accommodation is on the ground floor while one customer accommodation is upstairs. Each ground floor bedrooms have a door that leads out to a large garden. By the entrance hall is situated a large lounge, leading to the kitchen with an exit to a large garden behind.
The garden has an enclosed area, with patio furniture and some home-grown plants. Other facilities include office, wheelchair accessible shower/toilet, bathroom and parker bath, mobility aids, ceiling hoists and tracking and a Stannah stair lift.
Between the hours 5pm and 8am and at weekends there is a on call manager available, to provide support and guidance to staff.
All customers have a Licenced Tenancy Agreement.
Ability are the Registered Social Landlord and the London Borough of Kingston, Richmond, Lambeth and Merton are the funding commission authority.