New kitchens in Liss
Published: 24 Jun 2014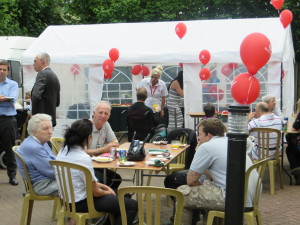 To mark the completion of  their kitchen upgrade, customers in East Hampshire were treated to a celebration barbecue by our contractor Richardson.
The kitchen work was done as part of Ability's planned maintenance programme. We had very positive feedback from our customers about the refurbishment and the helpful team at Richardson, our contractor, who did the work. Stuart, who is a wheelchair user said "…the group of young men who carried out the work were excellent. They were polite, considerate and helpful; nothing was too much trouble and they did all they could to minimise the disruption and fit in with any requests regarding difficulties any of us may have had."
The East Hampshire homes comprise a mix of family homes and 6 bungalows for wheelchair users.