10 years of independent living
Published: 24 Jul 2014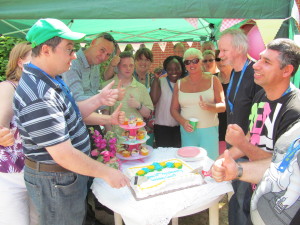 Nine residents of our supported living development in Earley for people with learning disabilities celebrated ten years of living independently with a garden party on Tuesday 22nd July.
The development came about through the initiative of a local charity, The Loddon Home Appeal. The charity, formed by parents who wanted their disabled children to have somewhere safe and secure to live in adulthood, actively fundraised but found that property costs were increasing faster than their fundraising efforts.
Ability teamed up with the charity to enable the project to go ahead. Once the building work was completed in 2004, Loddon Home Appeal was wound up.
Ability provides each tenant with a fully self-contained one-bedroom flat let at an affordable rent, plus support workers who are available 24 hours a day.
Loddon Court tenant Paul Thomson said, "I have lived here since 2004, I have enjoyed my independence here, I like cooking for myself. I enjoy the activities, my favourite has been the Butlins' Holiday. One day I hope to move to my own house in the community".
Ability Chief Executive, David Williams, said "The success story of Loddon Court is the tenants themselves. They have shown that people with learning disabilities can take control of their own lives and live independently in their own homes, given the right living environment and support. Too many disabled people still live in residential care homes or group homes that restrict choice and independence".