Wendy moves to Rosedene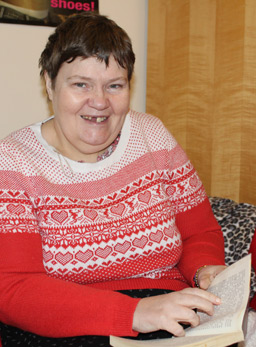 Wendy moved to our Rosedene service in March 2016, when she and two friends moved from a group home in Woking.
She says: "It was a big change coming here. It was hard at the beginning because I have never lived independently before. But I got lots of support to help me when I was settling in and I still get the support I need.
"It's still sometimes hard here because it's so different. When I find it hard, I talk to the staff or go and sit in my own space and read a book. I'm quite a quiet person and enjoy time on my own practising my writing or reading detective books. I really like reading. Staff come to the library with me so I can choose new detective stories to read.
"I like everything at Rosedene. My support worker Kirsty helps me with all sorts. I'm more independent living here and Kirsty helps me with that. I do more of my own cooking, but still have support when I need it. My favourite meal to cook is shepherd's pie.
"Kirsty has a great sense of humour. If you're down and she comes in, she really builds you up and helps me to feel positive and laugh. We often have a good laugh together."