Stephanie stays independent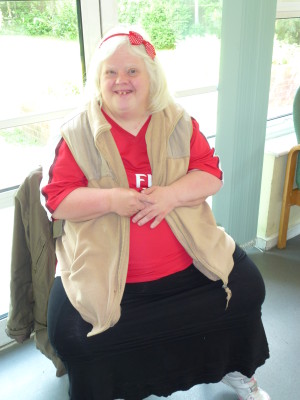 My name is Stephanie and I am 53 years old. I was diagnosed with Downs Syndrome when I was still very young.
I used to live in a hostel, but when I got married in 2004, I shifted to live at one of Ability's supported living services in Slough.
My husband and I were very happy and enjoyed life to the full. We used to go to Slough and Windsor on our own every weekend and we supported each other to find the way. Sadly, my husband died last year after a long illness.
I enjoy being independent and so I did not want to rely on staff to access the community. I told staff how I wanted to carry on living my life, and they supported me to do so.
Staff bought me a mobile phone that was easy to use and taught me how to use it. This enabled me to call staff at the office while I was away to let them know how I was. It also meant that staff were able to call me if they had not heard from me.
At first, I began to go out on a Saturday for a short time, such as an hour or so.  This was after staff had gone through some guidelines with me to create awareness for my safety. It included making sure I stayed in areas I was familiar with, keeping my money and belongings safe and out of view.
I continued to go out independently each weekend and I am now more confident to do this. I also used to call staff to arrange a taxi when I was ready to return, but now I do it on my own.
I am also able to budget my money while in the community and to order things I need to buy from WH Smith or Argos even when they are not in the store.
I have also maintained friendships with our church vicar. Every Sunday, we have a cup of tea, cake and talk about Arsenal, magazines and holidays. All in all, I have been able to continue enjoying my life independently. Thanks to Ability Staff for the support.