Value for money statement
The Association has a Value for Money strategy which seeks to ensure that we make best use of the various forms of capital that we have at our disposal (people, property and reputation and financial resources).
The specialist nature of the services delivered by Ability mean that benchmarking our VFM metrics against the overall social housing global accounts fails to reflect a true comparison of performance. The table below is an extract from the data table of the RSH Global Accounts 2019 filtered to isolate providers of supported housing where at least 60% of social housing is supported, but excluding providers for housing for older people.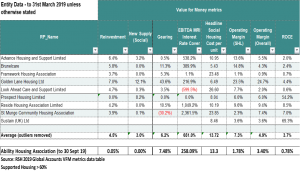 The impact of the period of rent reduction on housing revenues continues to be reflected in the results of all registered providers of social housing. By close control of costs and managing the expenditure on operational and general overhead, the impact has been managed by Ability on ongoing operations, but felt in our deferred development aspirations and the margins achieved since 2016-17 as illustrated in the 'Ability four-year trend' table.
This has coincided with extensive investment by Ability in Landlord Health and Safety in all of our properties. This cost is reflected in the increased social housing cost per unit over the last two years in particular, where non-capital works are reported, and not in the reinvestment metric which measures capitalised works and new provision. For 2018-19, a short slippage in the installation programme for an investment in windows means that the current year reinvestment figure was depressed. Had the timeline been maintained, the reinvestment for this year would have been an increase from 2017-18 at 0.32%. This reinvestment will now be reflected in 2019-20, as part of a target of 0.62%.
Value for Money (cont)
'Associations managing more than 30,000 units recorded a 3.6 percentage point reduction in operating margins compared to those in the 10,000 to 30,000 units band, where the reduction was only 1.4 percentage points.
Source: Housemark – Global Accounts 2019 – Headline findings'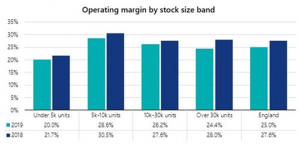 This investment in works to existing properties rather than new provision is reflected in the accounts of the majority of our peer group, with new development in the year (rather than completion of existing schemes) limited to Advance, Brunelcare and Framework.
Ability has a gearing which is slightly above our peer group average at 7.48% against 6.2% average (eliminating providers that have a 'zero borrowing' business model).
Operating margin at 3.4% is slightly below the peer group average of 4.9% for overall activity, and reflects the extensive investment in non-capital investment that Ability has undertaken in the last two and a half years. This reflects in an EBITDA-MRI which is also below the average, but which is nonetheless a strong performance against the banking covenant of 110%. The target for 2019-20 of 4.3% operating surplus with a minimum 5% target beyond 2019-20 reflects the completion of the extensive non-capital works programme undertaken, and the impact of the intensive housing management structure.
A major factor in these figures is the decision taken at Ability to take an intensive approach to tenancy sustainment, with significant investment and focus on supporting our customers to manage and retain their tenancy. This support cost represents a better outcome for the customer, and a value for money investment for Ability when compared to the cost of debt recovery and tenancy change. This investment supports the target of reducing arrears and bad debt costs by 0.5% per annum.
Value for Money (cont)
Value for money metrics – Ability four year trend